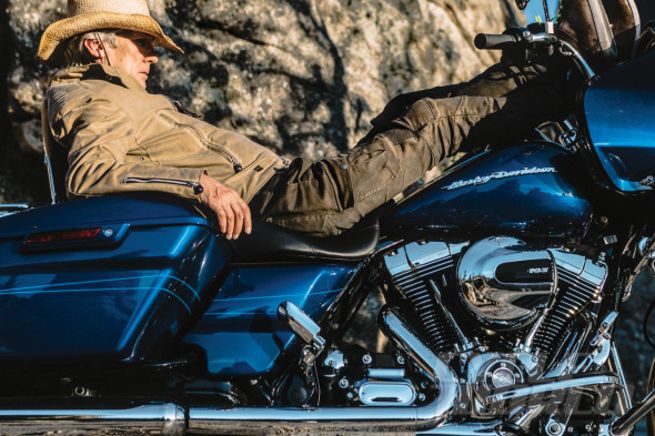 uglyBROS MOTORPOOL jeans review by Cycle World
CW REVIEW: UGLYBROS USA MOTORPOOL JEANS
Motorcycle style that's not biker creepy.
By Peter Jones September 22, 2015
Wearing snow pants is uncool. So, it's a mystery why so many motorcycle pants are styled like them. But can armor be sexy?
Alas, a new alternative has arrived, and these pants don't make sounds like you're polishing a shower curtain every time you move a leg. UglyBros USA offers some of most progressive and stylish pants available today, with a selection of designs crafted for function and fashion, without compromise of either. The UglyBros USA line of motorcycle pants provides serious protection, inventive styling, and high quality materials and assembly. Some brands fail to hit a third of those traits.
I wore the Motorpool jeans in Stained Olive. All UglyBros pants are delivered with armor that slides into outer pockets on the knees, and into interior pockets on each hip. Knee pockets that are unapologetically open at the top are a signature function and styling feature. It's daring and it works, giving UglyBros USA pants a unique, apocalyptic fashion; the pockets announce that these pants are designed for doing things that might be rough or risky. The open top pockets also make it easy to insert or removing the armor, for maximum comfort when you're riding, walking, or chilling.
Made of 11-ounce stretch denim, the Motorpool pants feature four cargo pockets with snap closures (one on each outer thigh, and two rear pockets), and two conventional hand pockets in front. For ease of motion and a comfortably functional fit, there are elasticized shirring panels above each knee and below the rear beltline. The four included armor pieces are CE approved. Front closure is by a YKK zipper topped with a button and a liberally wide cover flap with a secondary snap closure.
The styling of the Motorpool is a slim, stretch jean. With its protection, function, riding comfort, street style, and excellent overall quality of its materials and construction, the UglyBros Motorpool pants—and the company's line of jeans in general—are exceptional by every measure. Yes, they're pricy, but they justify their cost. On top of what's mentioned above, we've witnessed how women often can't resist starting a conversation with a guy wearing these. So, yes, after 900 years, armor, if done right, is still sexy.
The UglyBros USA Motorpool pants are available in Stained Olive, Camo, and Charcoal Grey. Also available in women's sizes. MSRP: $329.00
For other style options: www.uglybrosusa.com
UPS
—Armor, stretch denim fabric, elasticized shirring panels, add up to ultra function.
—Open knee pockets (for armor), reinforced panels, define a dynamic apocalyptic fashion.
—Design, material and manufacture is of the highest quality.
—Glove-like fit.
—Pockets, lots of pockets.
—Women dig them.
DOWNS
—These aren't inexpensive.
—No washing instructions. (Does stretch denim shrink?)
—Soon, everyone will be wearing them and fashion leaders will need to move on.
—Not for larger body types.