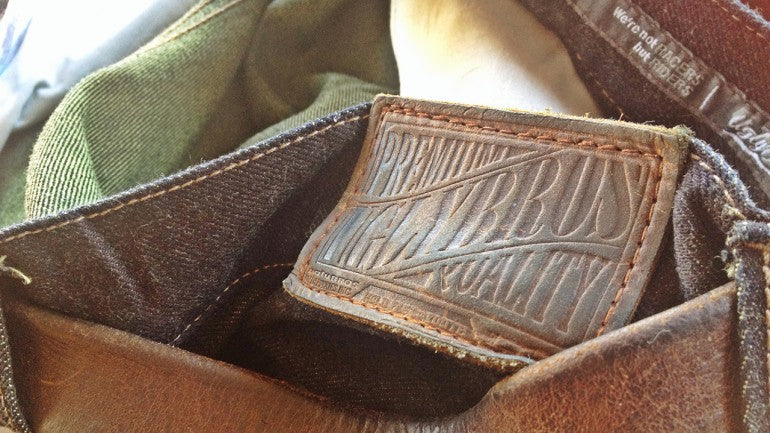 uglyBROS Echo-K Motorcycle Jeans Review by RideApart
 Gear - February 25, 2014
By Wes Siler
What about uglyBROS? We've heard that from a bunch of readers but, until now, the Korean maker of casual riding apparel didn't produce the kind of jeans we'd be seen dead in. This pair — made with a 30 percent Kevlar weave — changes all that. Read why in this UglyBros Echo-K Motorcycle Jeans Review.
The Gear
The $200 Echo-K is a basic set of straight-leg jeans with subdued, "normal" styling. The 12 oz denim weave is 70 percent cotton and 30 percent Kevlar, that material is claimed to give the jeans an enhanced ability to resist abrasion and tearing. You know, like in a motorcycle crash.
There's no armor and no external bedazzlement to give away that these are riding jeans, they're just a nicepair of every day jeans that also happen to offer some abrasion protection.
The only external branding is this leather tag
Regular readers will likely be familiar with the concept of jeans that include Kevlar in their weave, Deth Killers Asphalt Resistant Denim was one of the first companies to take advantage of the material and their products remain a perennial favorite amongst our staff.
Compared to Deth Killers, the uglyBROS' 12 oz denim feels thinner and more flexible, with substantially less need for break in. The Echo-K's were comfortable from the first wear. But, while they are thinner, a higher percentage of Kevlar is incorporated into the weave — 30 percent for uglyBROS, 16 percent for Deth Killers. We haven't evaluated their abrasion resistance side-to-side, so can't common on their relative safety, but have had a small, on-road crash in the Deth Killers, which provided adequate abrasion protection at low speed.
Stitched crosses replace metal rivets in the all-important seat area. This should help prevent butt burns.
uglyBROS borrows a further trick from Deth Killers, replacing some of its metal rivet hardware with cross stitches; an arrangement designed to reduce the odds of burns as metal rivets heat up through friction.
The Echo-Ks are a straight cut, one which will be roomy enough to suit the tastes of most American men, without skewing baggy. I'm wearing a size 32, which equates to a true 35.5-inch waist and 33.5-inch inseam. Typically, I wear a size 31×34 in Levis and, compared to those, these uglyBROS are a little larger in the waist and slightly shorter in the inseam. On me, a belt is required to hold these jeans up and they're not quite long enough to take a cuff. Refreshingly, the jeans fit through the hips, butt and crotch without an undue amount of extra material; that is to say they fit well. I've been wearing these around town as well as on the bike and they've never not been comfortable or visually appropriate.
The quality of materials and stitching throughout feels sturdy, long lasting and able to withstand the forces of a low-speed slide on asphalt. The zipper is a heavy-duty YKK item and the button waist closure is sturdy.
uglyBROS USA General Manager, Vince Sohn, tells us the Echo-Ks don't benefit from triple-stitched or otherwise reinforced seams and do without crotch gusseting, accordion panels or other on-bike safety or comfort features in order to "emphasize the fashion and convenience factors" with this pair. The company does offer much more technical jeans in its line up, but fashion is obviously compromised in the process.
The Echo-Ks are a straight cut — not skinny and not baggy.
The Good
Subdued, classy styling. There's nothing separating these from "normal" jeans aside from the material.
Quality is robust.
Fit is a flattering and stylish straight leg that's roomy without being baggy.
The full range of leg and torso movement remains comfortably available.
The 30 percent Kevlar denim weave should provide adequate abrasion protection at in-town speeds.
Fit is good, without undue bagginess in the seat or crotch
The Bad
Available sizes are a bit odd and don't feature the range of larger brands.
Extra inseam length would make cuffing possible and cover more of your boot while riding.
The tradeoff you get in these all-day comfortable, normal-looking jeans is limited protection. There's no impact absorption at all and resistance to abrasion will be limited. We also don't see these jeans standing up to more than one slide.
On-bike comfort is excellent, despite the addition of Kevlar to the weave, movement is not restricted.
The Verdict
If you use a bike as your primary transportation, then there's going to be times where an All The Gear, All The Time approach simply isn't practical. In these Echo-Ks, you get a stylish, flattering, comfortable pair of jeans you can wear every day; a pair that should also provide some abrasion protection in a motorcycle crash. That's a happy middle ground for many in-town tasks like running to the grocery store, commuting short distances or meeting friends. At $200, uglyBROS is also offering some of the more affordable protective motorcycle jeans available.