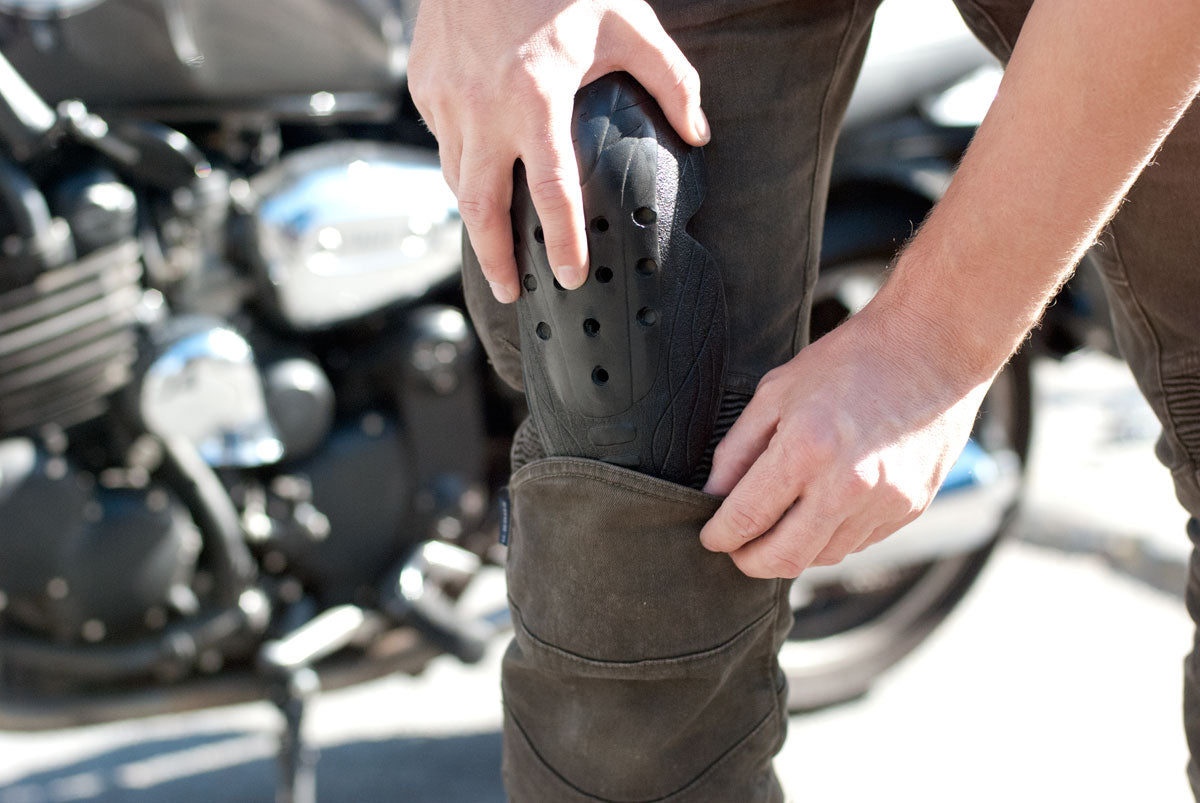 uglyBROS Motorpool jeans review by CaferacerXXX
uglyBROS Motorpool jeans review by CaferacerXXX
Date: Tuesday, July 30, 2013
CAFERACERXXX Product Review:
uglyBROS USA
MOTORPOOL Moto pants
Retail $323
We've all been there, that early Saturday morning after a great night out. You, posted up on the couch in your favorite sweatpants, coffee in hand quietly reveling in the fact that you have no where to be. This comfort, when properly achieved, frees the mind allowing for complete concentration on the task at hand, like that book you promised yourself you'd finish five months ago. Comfort, when present, reassures but never distracts.
When it comes to choosing the appropriate motorcycle garments to don while navigating the treacherous Bronx-Queens Expressway or casually exploring either of the coastal highways, one thing is for sure: you want protection and you want it to be comfortable. If you just so happen to look good in them, on or off the bike, homerun. With a slew of new products on the market to choose from, one brand in particular caught our attention with their unique aesthetic, specifically in the moto pants category - uglyBROS USA
One look across uglyBROS USA's portfolio of products and you'll immediately notice their attempt to merge the world of protective motorcycle gear with high-style fashion garments. Something few brands prior to this have been able to successfully do. So how well does uglyBROS USA products hold up when put to the test? During a 3-day moto-camping excursion that took me from Brooklyn NY down the coast to Delaware I had the opportunity to find out.
From their impressive arsenal I chose the MOTORPOOL moto pants. A slim straight fit, olive-green dyed pant constructed from 11oz. stretch cotton with cargo flap pockets on both legs and built-in interior slots to house the European CE approved removable knee & hip protectors. What's most impressive, and therefore differentiating with most of uglyBROS moto pants are the elastic shirring strategically placed around the knees and the waist allowing for ridiculous movement. At no time during my 8-hour ride, or my night's sleep in them, did they bunch or become irritating. With the functional box checked, you'll be encourage to wear the uglyBROS USA moto pants even when you're not riding. The armour protection slides out with appropriate ease and with right pair of boots and a simple tee you'll own the proper 'just got off my motorcycle' look without joining the all too popular Power-Ranger tribe. I've personally been caught wearing them a few times in my NYC office.
The argument that stretch cotton will not hold up as well as the denim/kelvar moto pants offered by other brands is a valid one and the $323 price point is relatively high. However, after a full weekend of riding, camping and general hell-raising the uglyBROS USA MotorPool moto pant gets my vote for it's style, protection and unrivaled comfort. Like those sweat pants I spoke of earlier, I plan on having these for a long time.
-Chris Logsdon
Chris Logsdon is a designer and currently lives in Brooklyn NY and rides a '99 Triumph Legend TT. (@iam_lgd)