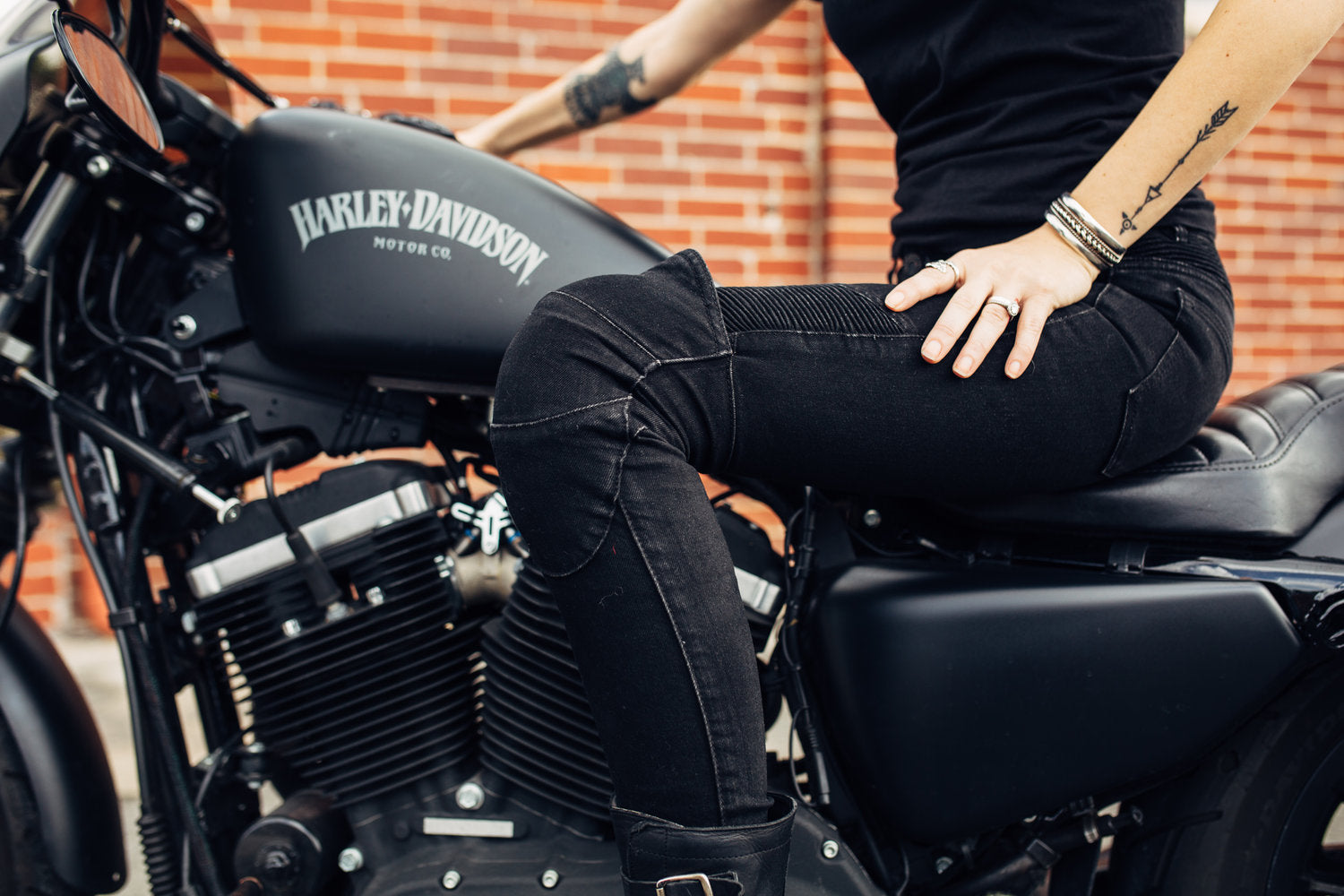 uglyBROS Twiggy Review by Leticia Cline
When I test a product I do my best to destroy what it is I'm testing. I ride hard, live life to the fullest and therefore I'm rough on the things I wear / ride. For the past two years I have had the Ugly Bros Twiggy Motorcycle Jeans in black and in that time I have about 20k miles on them. These jeans have seen tropical storms, been through a hurricane and have been in extreme heat and cold and other than some minor fading they still fit and preform just like they did when I got them. 
One of the best features about the Ugly Bro Jeans is that they don't look like a motorcycle jean. They are protective but have a great fit and fashion design that you can easily wear them when you are not on your bike. In fact, I have been stopped many times by women who don't ride, asking what jeans I'm wearing. The Twiggy is a skinny leg shape and come in Silver, Black and Blue. They have removable armor in the knees and hips that is easy to take in and out. I usually wear the armor on my long rides and when I get off my bike to go to lunch, diner or hang out I simply just take out the armor and place in my bag. The flexible rotating button closure is great as well incase I eat too much at lunch and need extra room! ;-)
I usually never wash my jeans or at the least only wash then once or twice a year to keep the color and shape. However, I have washed my Twiggy Jeans almost 30 times since I've had them. Because I have used them so much I have had to was them. They are sometimes covered in bugs, grease, road dirt and whatever else I have picked up along the way. Aside from fading they have the same shape. My only complaint would be that they don't come up as high as I would like in the back to avoid the possibility of showing the world my tush but that's personal preference since they do come up just enough. Overall, I couldn't be any happier with the look, fit and function of my Ugly Bros and I will be wearing these for years to come.  
Tech Points
• 12oz Stretched Denim
• Elastic shirring knee & waist-lower back panels
• CE approved Removable knee & hip protectors included
• YKK® Zipper
• POWERTECTOR®
Color
• Solid Black
Fit & Size
• Skinny
-- 
Original Article by Leticia Cline
Photos by Grain & Glass