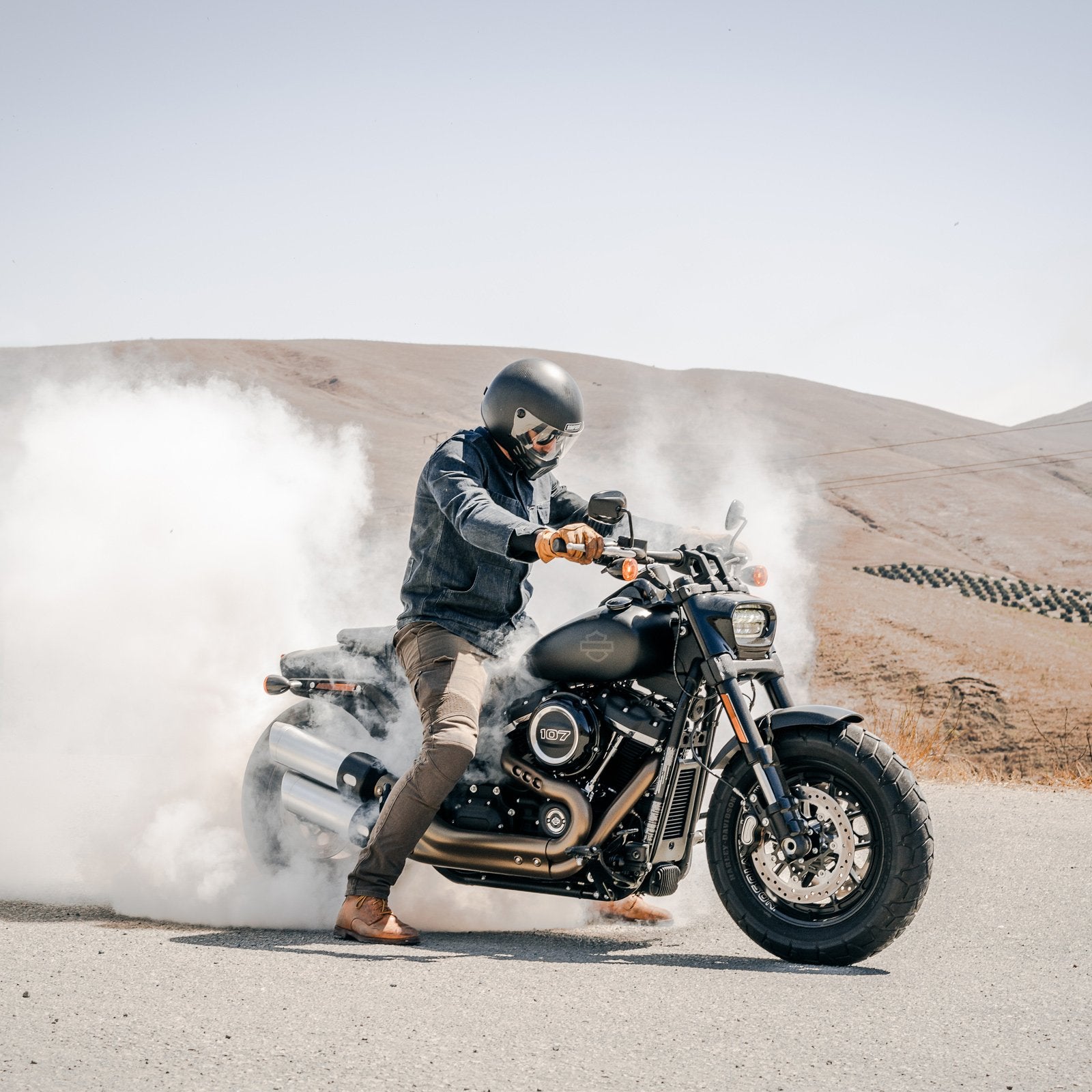 uglyBROS MOTORPOOL OLIVE + Harley Davidson as featured in IRON & AIR MAGAZINE
LONG LIVE THE SOFTAIL.
A revamped lineup from our friends in Milwaukee.
WORDS Iron & Air Staff  IMAGES Scott Toepfer, Gregory George Moore, Harley-Davidson
The Dyna is dead, long live the Softail.
Harley-Davidson recently killed off its Dyna line to flesh out the Softail family, debuting eight all-new motorcycles that now share a lighter, stiffer chassis with a tightly packaged rear monoshock suspension. The most dramatically restyled Softail model is the Fat Bob.
From its bronze two-to-one-and-back exhaust to its oval "Daymaker" LED headlight, the Bob's design is unquestionably polarizing but typically gets positive reactions from passersby. The new Fat Bob's handling is far superior to its predecessor's with a racing-style cartridge front fork and hidden high-performance rear mono-shock, and even though our Fat Bob had the smaller of the two available Milwaukee-Eight V-twin engines—107 vs 114 cubic inches—the bike never struggled to pull away from a stoplight and leave the street smoking.
There are eight new bikes in Harley's latest line-up: the Fat Bob, Fat Boy, Street Bob, Low Rider, Softail Slim, Deluxe, Breakout, Heritage Softail Classic.
The Softail Street Bob
The Softail Low Rider
The Softail Slim
The Softail Fat Bob
The Softail Deluxe
The Softail Fatboy
The Softail Heritage Classic
The Softail Breakout
This new lineup is well worth the trip to your local dealer just to experience the engineering work that went into each new machine. Visit harley-davidson.com to find your local dealer.
This content was produced in association with Harley Davidson.